The Future of Technology is Bright
25.04.22 NEWS
Mosaic Community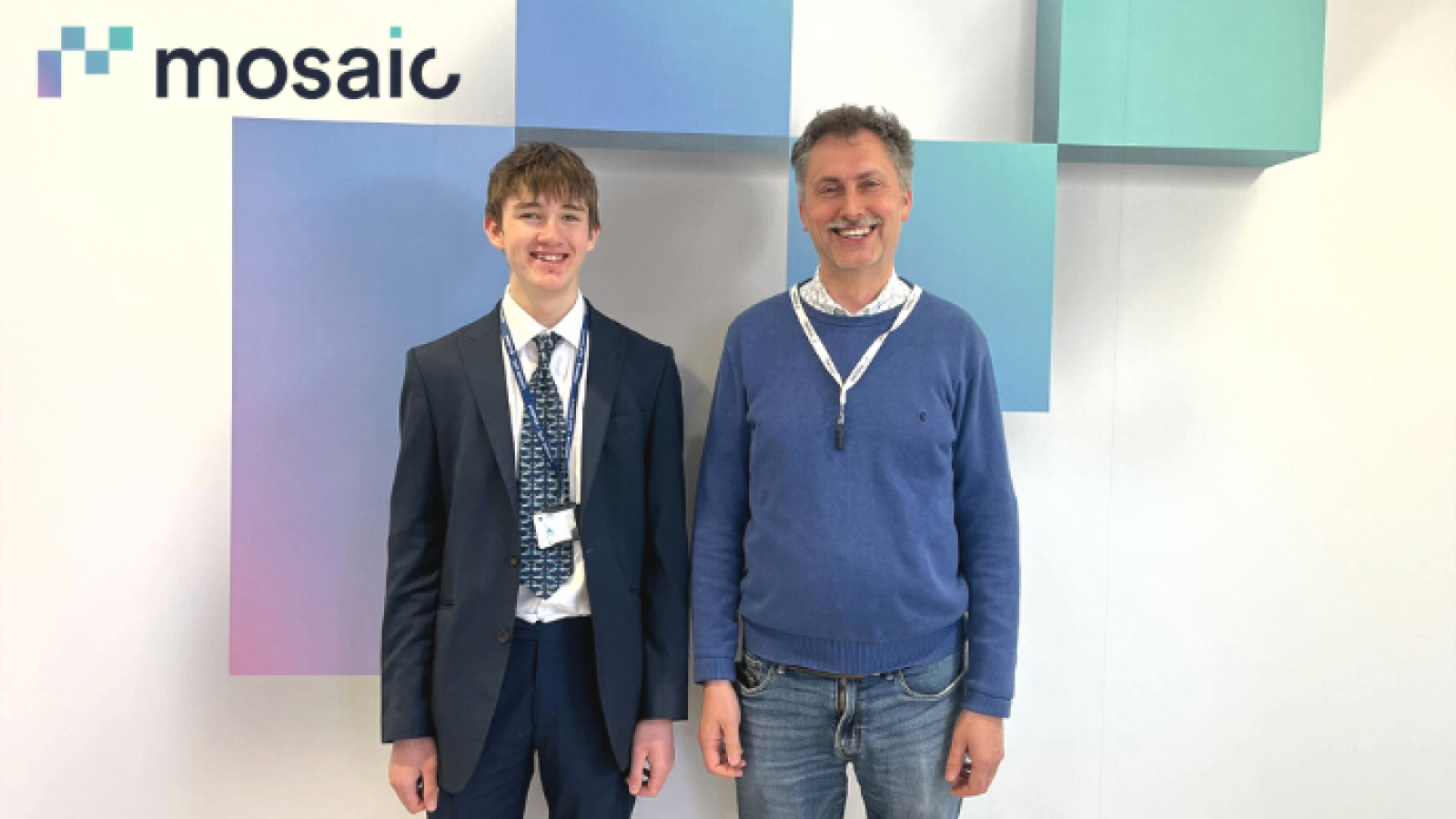 Community is a big part of what we do at Mosaic, our goal is to provide an environment where our members can support and learn from one another and have opportunities for collaboration. We had the pleasure of seeing this in action over the Easter School Holidays as we had a new temporary member join for a week of work experience.
A conversation in Mosaic between Vicky Denby, founder of Live Like Loyalty and Andrew Salt, head of the DevOps team at ScholarPack, lead to a chat about her son looking for work experience "because I work with ScholarPack at Mosaic it seemed like a natural conversation." Vicky found out that ScholarPack had been looking into work placement opportunities.
"We love the ethos behind Mosaic and we also love building the technical community in Lincoln. Also being an education company we wanted to give something back and invest in the future." Andrew and the team had a really clear vision for how they wanted to invest in future engineers. "Having work placements is something we have been thinking about for a while as The Key Group. So when we heard about the opportunity to host Arthur it was really exciting. We were really happy to get involved and see, almost like a prototype, how things would work, so Arthur was our guinea pig."
This amazing opportunity allowed ScholarPack to build a great model for the future. "You get the situation where a young person is not familiar with business so what can you do with them? Let them make tea and look over your shoulder but we did not want that traditional approach, we wanted to empower and give him something he could take away at the end of it that would be significant for his CV.
So collectively we thought about how we might put that together and we got a plan so he would spend half his time with our development team and half with our operations team so he could see how a real-world company worked and time with people in the business to gain that commercial awareness of how we work."
Arthur is currently doing his A-Levels at Lincoln University Technical College and has a keen interest in computer science. Although he has had previous work experience placements this opportunity exceeded expectations. " I was expecting a normal office environment but it was a lot more chilled out and positive than I thought it would be."
"[My Days] varied a lot because they gave me a laptop and I had a whole calendar of things to do so I was joining meetings going with different people to see what they are doing. We ended up creating our own server and they walked me through all of it." Arthur was able to develop new skills, gain a new understanding of how a real-world company runs and also had a lot of fun. "It didn't feel like work it just felt like everyone was enjoying themselves."
However, ScholarPack were not the only one to exceed expectations. Arthur flourished during the week, he gained knowledge but also confidence. He wasn't afraid to ask questions and got as much as he could out of the experience, continuing to impress Andrew and the team. "In his development time, he actually fixed 4 bugs which is not bad in a week considering his first day was literally teaching him how our systems operate. So he fixed 4 real-world bugs that were waiting in our backlog to be fixed by someone and Arthur picked them up which is incredible. So we were very pleased about that."
"We were really grateful for the opportunity and really fortunate to have Arthur. He's a very promising young man, I'm sure he'll do really well and he's a credit to his school. We wish him well and look forward to running more work placements in the future."
We are delighted that through our Mosaic community Arthur was able to have this experience and of course, we had to ask him what he thought of Mosaic?
"I love it. I love the lounge and upstairs. I like how it's all open plan."
Vicky also let us know that "he asked me if he could come to do his A-level school work here. That's how much he loved it, he wants to revise here."