18.10.23 NEWS
Our recent expansion has now been completed! We have converted our neighbouring premises into offices to accommodate growing local businesses.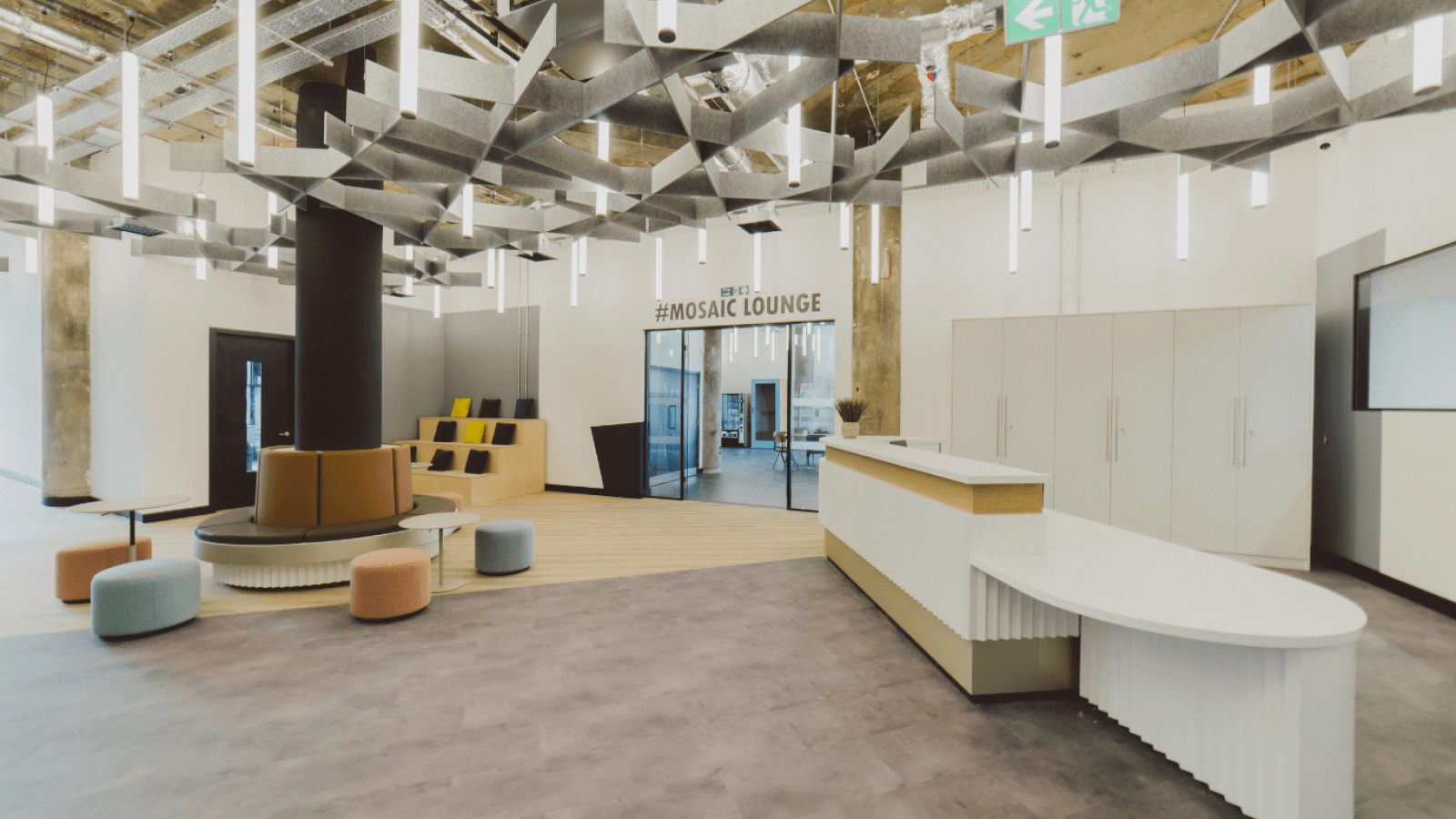 On top of four new offices, the conversion of the unused building, which was once home to Bierkeller, has created a new conference space available for the public to hire, and a new meeting room.
Our co-working space, which is on Silver Street, has multiple different occupancy options and will also continue to offer hot desking and desk rental.

As a result of the expansion, tenancy technology provider Goodlord and software companies PageTiger and Codal were able to move into Mosaic.
Oliver Gurnell, Co-Founder and CTO of PageTiger, said: "I am really excited about the move, being back in the city centre, and providing staff with a shiny new office space that I hope will be an exemplar within the city and surrounding area.
"The move to Mosaic is necessary to continue our journey as we need more space to grow out our teams as we expand our customer base, and this building will provide us the clean, ultra-modern, high-tech space we have been accustomed to, but with much better breakout areas and communal spaces.
"We will also be surrounded by other similar tech businesses who we can hopefully learn from and who can also learn from us. I would like to thank all PageTiger staff for their hard work and dedication in helping us in the success of our journey."
Existing tenants, who's teams have grown since moving into the hub, are also able to expand within the shared space; Lime Green Accountancy and Nokia have transitioned from renting individual desks, to taking on entire offices.
Long standing tenants and eCommerce specialists, eComOne, has also grown its team and are moving into a larger office within the new space created.

Richard Hill, CEO and founder of eComOne, said: "We're really pleased to have taken our office in the new phase of the Mosaic hub. We've been here since before the pandemic and have always valued the incredible service and community that the team here has fostered.
"Our team has been excited to have its own space and we're looking forward to what opportunities this brings in the future. Since moving we have hired three new members of staff across our SEO, content and business development teams, with several roles still open and we feel the office gives us not only the space, but the prestige and feel we were looking for.
"eComOne is a specialist eCommerce agency that turbocharges sales for ambitious seven-figure+ eCommerce brands with its own strategic eCommerce Growth Engine. The agency works with brands across the eCommerce spectrum, from outdoor equipment specialists, specialist classic car part experts, nursery brands and much more."
Mosaic's entrance and reception has moved from Free School Lane to Silver Street as part of the project, so that it sits centrally within the expanded space, which is a deliberate choice made to maintain the community feel between tenants.
Ben James, Property Engagement Manager at Mosaic, said: "Mosaic first opened in late 2019 to provide a workspace solution for the developing digital community in Lincolnshire, equipped with all the necessities including high-speed internet and booths for private calls.
"Now that so many more people are working remotely, it's a great alternative to being stuck at home alone all day, and the community we've built is not only fantastic for picking up new skills and advice, but also from a social standpoint.

"We're really excited to welcome new tenants into this inspiring space. It's amazing to see Mosaic grow and to see our tenants' teams grow with it."
Come and see for yourself! Book a tour today.